I haz teh fuzzies!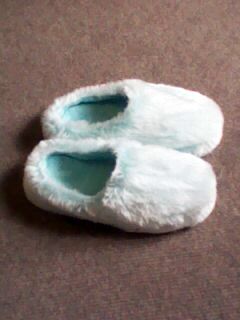 :)
I ended up going downtown to find them. It wasn't as bad as I thought it would be, although that doesn't say much. I was looking forward to going downtown with slightly less trepidation than a trip to the dentist. I don't like city centres. There's cars and people and tall buildings and people and signs and people. I don't like people.
It wasn't too bad, though. The trip -- at least to the parts of downtown that I walked through -- ended up being uncomfortable, but not to the level of anxiety. I wouldn't have wanted to do it at night, though.
I had to walk for quite a bit. I left university and headed downtown, but after a few blocks I realized that I only had ten pounds on me. Not having any kind of reference for how much footwear cost here (other than Clarke's, which has designer men's slippers for 20 pounds or more!), I headed back home to pick up more money[1] before going downtown. That added about 40 minutes to the trip.
[1] I brought £500 with me, but I only put £100 in my wallet at once. I'd just finished one set of 100, and thus had to pick up another 100.
It was about 25 minutes to get from my house to Primark (the clothing store recommended by two locals). It was in a car-less area -- evidently near the city centre, they have a few streets that are pedestrian-only. The store was small by North American department store standards... say, a quarter of the volume of the Bay at Brentwood Mall. I'm not certain if my slippers are officially women's slipper or not -- all the footwear was in one area, and most of them had heels. I looked for a separate section for distinctly male shoes, but couldn't find any. About 90% of the shoppers were female, although I did see some men's clothing. So the locals hadn't sent me to a lingerie store for a lark. :)
Anyway, I'm quite happy with these slippers. The outside of them is even softer than it looks... I spent a few minutes with my feet on the top of the slippers. Yes, I know that's not how you're supposed to wear them. But they were so soft! They remind me of my mother's fake rabbit-fur coat that she used to wear when I was a child. And they were only £2.96!